09 Dec

What you need to know about perfect printing.
An interview with printing expert Mirjana Suric. 
BY MELINE BEACH
Tell me about yourself… how did you come about your expert opinion on printed plastic packaging?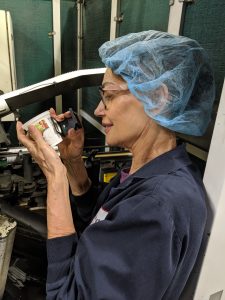 I've honed my skills and expertise in plastic packaging throughout my entire career at Polytainers. I started in the printing department as a packer and worked my way across the business – learning the ins and outs of what it takes to make plastic packaging perfect. I've been a key player in delivering some very successful printed projects that have won numerous industry awards. So yes, I consider myself an in-house expert. I know plastic packaging very well and the best approach to pre-press color separation for dry offset printing.  I'm confident with the advice I offer customers on the finer details to achieve perfection with their designs.  In fact, the entire team has championed a number of key competencies and developed a graphics orientation kit to help brand owners create quality design for dry offset printing – an important tool as not all designs translate well across different mediums, like paper to round plastic containers.
What is so great about dry offset printing?
While the concept of dry offset printing is not new, we have made great strides with this technology.  It used to be that images had to be line art – nothing sophisticated.  Today, we are able to form digital plates in-house and reproduce photographic quality using a proprietary spot color method to create high-quality, vibrantly decorated containers at a fraction of the cost of in-mold labelling or shrink sleeving. There is also a valuable sustainability benefit to dry offset printed packages. They are 100 percent recyclable and don't require any additional costs in material or production compared with shrink sleeves or in-mold labels.
What are the proprietary benefits of Polytainers' dry offset printing and how has it helped move the packaging market forward?
Through extensive R&D, we developed a proprietary color separation process known as Poly-ToneTM High Definition (PT-HD). This proprietary color separation process produces TruToneTM high-resolution photographic images. By digitally exposing images directly onto plates and applying our range of dot color technology, we're able to achieve the decorating quality comparable to IML and shrink sleeve. The result is bolder, truer colors than traditional CMYK separations. Our facilities in Toronto and Lee's Summit, MO are equipped with high-speed PT-HD printers capable of process printing up to 8 colors on both cups and lids, with a quick 20-minute changeout of digital plates, if needed. Our goal is to enable brands to succeed through speed, efficiency and printing excellence. We've established an industry benchmark for high quality dry offset printing and have won 52 awards for PT-HD printed packages in the last five years.
With comparable design quality, why would a customer choose PT-HD dry offset printing over IML or shrink sleeve?
Polytainers' dry offset is the most economical form of decorating on rigid plastic packaging. Our proprietary PT-HD technology enables us to print vibrant, realistic designs around the entire container and close to a package's top and bottom margins.  As in-house experts with the right technology and resources, we're able to advise customers on the finer details of printing and can make changes to digital plates on the fly. If we aren't satisfied with the results on the press, we have the flexibility to work directly with the customer to resolve issues with no loss of time, additional materials or extra cost to the customer. These efficiencies provide a level of comfort to customers knowing that their delivery dates will not be negatively affected by our prepress process.
In your opinion what is the best way to leverage Polytainers' PT-HD in-house expertise?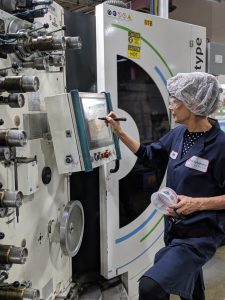 We are production partners with over 50 years of experience handling files specifically for dry offset printing. We understand how colors are printed wet-on-wet on a common blanket and how our machines behave to meet and exceed customer expectations. Having Polytainers do the pre-press color separations is the best way to leverage our expertise. We know how to use spot color technology to the best of its ability to create vibrant, realistic images and legible text – whether that involves gradients, vignettes, halos or reverse type.  This is why it's important to have pre-press artwork unlocked so that we can separate colors properly to achieve the best packaging results to meet customer satisfaction. The appearance of soft shadows within a design is a prime example. While many vendors would use a screen of black to create shadows and risk an inconsistent output due to dot gain, we know the right color combinations, within our 8-color process, to produce a consistent gray shadow for the entire (large or niche) print run. When the design file is locked and the pre-press is done by a third-party supplier, we can't access the colors to make the image print to our standards of perfection. If an edit needs to be made to achieve better results, the time it takes during the approval process to go back and forth with a third-party separator creates additional costs and delays in delivery.
Brand owners can also support our effort as well by applying simplicity to designs and fonts. Big visuals and sans serif fonts have a stronger impact and allow us to create greater definition, depth and detail.  The graphics orientation kit we have prepared is intended to be a valuable resource for brand managers as a means of helping them distinguish their brand with top-quality packaging solutions.