07 Feb

Speed to Market. A Case Study
INTRODUCTION
As part of an RFQ process, Polytainers® was invited to quote on a rigid plastic packaging solution for a new 40 oz yogurt container with a 409 diameter opening.
Known for its quality, consistency and attention to detail, along with state-of- the-art technology at both its Toronto and Lee's Summit, MO facilities, Polytainers has been providing industry leading plastic packaging and total value solutions to various brands since 1968.  Backed by a plethora of industry awards and a reputation for superior service, Polytainers was eager to respond to the RFQ.
THE CHALLENGE
The product specifications listed in the RFQ were uncommon within the industry. Although similar sizes existed for other products, the 409 diameter opening paired with the 40 oz package size was new to the market. In addition, the required turnaround time for this project was also shorter than normal industry standards. Ultimately, a new mold would be required to perform this job with a strong focus on expediency in order to meet the customer's requirements.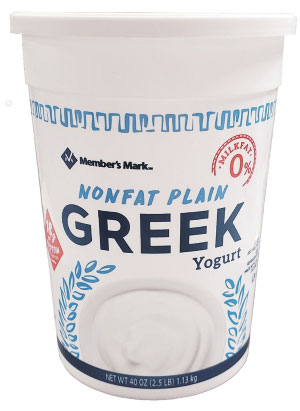 THE SOLUTION
"We seized the opportunity to participate in this RFQ process," says Micheil Jennings, Business Development Manager at Polytainers. "We thrive in taking initiative in emerging product lines. The experience would enable us to build on our existing portfolio and overall packaging capabilities."
Having a "can-do" attitude is the first step. The Polytainers Team initially set out on a discovery journey – researching what tools, resources and production capabilities were currently available and what solutions might be possible. They leveraged the power of collaboration and engaged a cross-functional team with members from sales, finance, engineering, marketing, graphics, printing, purchasing, operations, quality control, and their current supplier network.
"We first sought to understand our challenges and committed to our goals and opportunities for success," says Jennings. "After some quick market research and understanding of the competitive landscape and production capabilities, we knew we needed to act quickly if we wanted a chance of winning the business."
The Polytainers Team analyzed their existing 409-series containers to compare brimful volume versus normal fill sizing and used that data to extrapolate brimful measures required for the new 40 oz container. The engineering team designed and created an SLA prototype model of the proposed cup and invested in a unit cavity tool before the business was awarded to any one supplier.
"We acted on faith and proceeded in a proactive, collaborative and resourceful manner in seeking a smart, effective and timely solution," says Jennings. "We didn't see it as a risk in building the mold before being awarded the business but rather as an investment in adding it to our stock lineup thereby creating a competitive advantage."
Proactive – Polytainers took a proactive approach to the market opportunity by taking initiative, anticipating the market's needs and delivering a prototype well in advance of the business being awarded to any one supplier.
"When our customer's client was looking for a sample, we were able to provide an actual product, not just a drawing," says Nick Serniuck, Director of Engineering, Design, and Technical Service of Polytainers.
The Polytainers Team reviewed the filler that would be running the new container to determine what factors would need to be taken into consideration to ensure the final design would run as efficiently as possible. Together, they worked with plant personnel to test a larger capacity 409-series container that would share similar critical dimensions for the filler. The trial went well and they were able to establish normal start-up settings for the proposed package.
"As this was going to be a stock tool, it was important that the design fit the family of our other 409-series containers and be able to run interchangeably on any filler," says Jennings.
With their in-house mold shop and graphics department, the Polytainers Team was able to make any product or graphic changes on the spot and maintain the original delivery timeline.
THE RESULT
Upstate Niagara Cooperative was awarded the business and Polytainers was selected to supply the packaging based on its proactive initiative and ability to provide a tangible solution.  By starting the unit cavity before the business was awarded, Polytainers helped Upstate Niagara meet their customer's launch requirements.
Responsive – As a nimble privately-held supplier, Polytainers delivered speed to market with its agile decision-making ability.
"When we were awarded the business, we were already well ahead of  schedule," says Jennings. "We were motivated by     a sense of urgency to meet our customer's needs through a collaborative approach."
While the unit cavity was ahead of schedule, full production was on a tight timeframe for a new package. Any possible uncertainties were managed in a proactive manner with engineering teams meeting ahead of time to ensure everything was going to work.
"We travelled back to our customer's location with product from the unit cavity mold to validate the actual cup on their equipment and to troubleshoot prior to the completion of tooling and full production of the product," says Serniuck. "Everything went according to plan."
Throughout the entire process – from design and technical concept to engineering, prototyping, performance simulations and the right equipment, the Polytainers Team stayed focused on driving results.
"Our client set the target date and we didn't have to  ask for  an extension," says Chuck Wilson, Director of Procurement at Upstate Niagara Cooperative, Inc. "Without Polytainers' proactive approach, I'm not sure we would have had the same comfort level to pull off this aggressive target date."
THE BENEFIT
"Polytainers provided a competitive price and saved a lot of time to market based on their initiative and simple design process, great decorating, and superior quality in the marketplace," says Wilson.
The Polytainers Team provided a development protocol and ensured the complete production met customer specifications. Leveraging their in-house mold shop and internal engineering and design expertise, Polytainers put a new product in their pipeline and enhanced their portfolio of product offerings.
"It was a very rewarding experience to be able to pull this project together considering that it was a brand new packaging solution," says Serniuck.
Jennings adds, "We gave our customer exactly what they wanted when they wanted it and we delivered on time and on budget."
Trust – Polytainers in-house mold shop and reputation for engineering, graphics expertise and service excellence contributed to them being awarded the business.
"We've worked with Polytainers since 2013 and have come to rely on them as one of the most hassle-free packaging suppliers in the industry. Their collaborative approach to driving results helps us grow our business and is very much appreciated. Their expertise in design, molding and decorating, combined with their passion for perfection, have strengthened our confidence in them as a trusted partner who understands our business needs, exceeds our expectations and delivers innovative solutions time and again." – Chuck Wilson, Director of Procurement at Upstate Niagara Cooperative, Inc.